Tekken 3 Overview
Tekken 3, released in 1997, stands as a definitive title in the realm of fighting games, leaving an indelible mark on both gaming history and pop culture. Developed and published by Namco, this installment propelled the Tekken franchise to new heights, captivating players with its intricate combat mechanics and diverse roster of characters.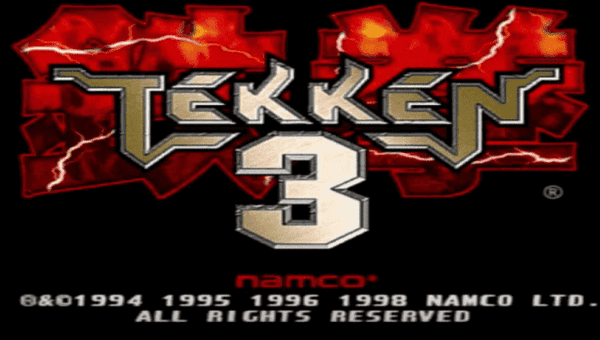 The game introduced a revolutionary 3D fighting system that allowed players to move seamlessly across the arena, execute intricate combos, and engage in intense battles. The character selection included iconic fighters such as Jin Kazama, Heihachi Mishima, and Nina Williams, each with their unique fighting styles and narratives. The arcade mode, along with various side games like Tekken Force, added depth to the gameplay experience.
Tekken 3's graphics, for its time, were cutting-edge, showcasing detailed character models and vibrant environments. Its success was further amplified by its memorable soundtrack and the enduring appeal of its characters, which led to numerous sequels and adaptations across different media.
Even decades after its release, Tekken 3 retains a special place in the hearts of gamers and remains a cornerstone of competitive fighting game communities. Its impact on the genre's evolution and the fond memories it has created solidify its status as a timeless classic.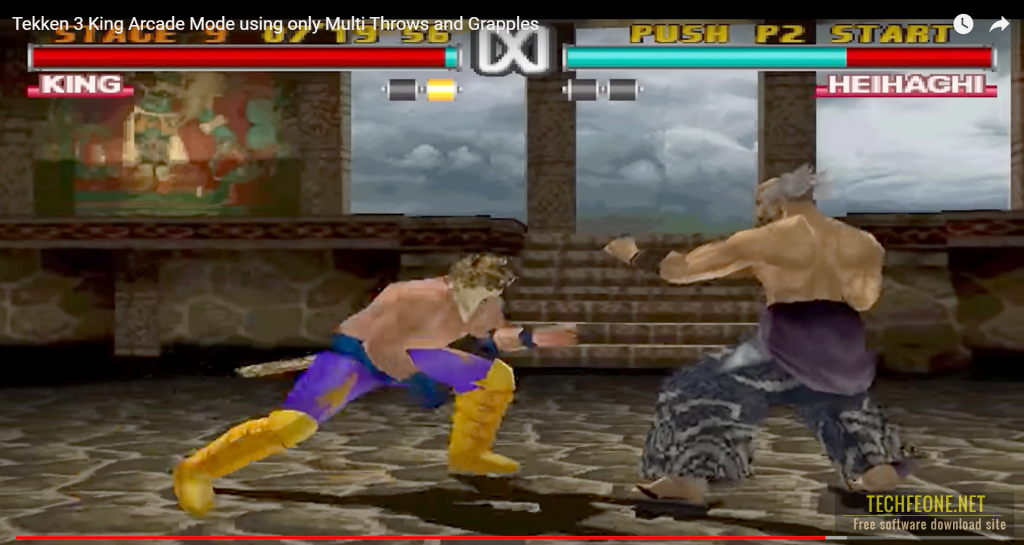 Game features
Diverse Character Roster: The game offered a diverse cast of characters, each with their own distinct fighting style, backstory, and set of moves. Players could choose from 23 characters, each offering a unique gameplay experience.
Revolutionary 3D Combat: Tekken 3 introduced a groundbreaking 3D combat system that enabled fluid movement in all directions. This innovation allowed for dynamic dodging, sidestepping, and juggling, adding depth and strategy to fights.
Deep Combo System: The game featured a complex combo system that encouraged players to master timing and execution to string together devastating combinations of attacks. This system rewarded skillful players with impressive moves and strategies.
Varied Game Modes: Beyond the standard Arcade mode, Tekken 3 offered a range of engaging game modes. This included the Tekken Force mode, a beat-'em-up side-scrolling minigame that added a different dimension to the gameplay.
Stunning Graphics: For its time, Tekken 3's graphics were impressive, with detailed character models, vibrant backgrounds, and fluid animations. This visual appeal contributed to the game's immersive experience.
Hidden Secrets: The game included hidden characters and alternate outfits that players could unlock, providing extra motivation for exploration and mastery of the game.
Multiplayer: Tekken 3 supported multiplayer modes that allowed players to compete against friends or other gamers locally. The competitive aspect further extended the game's longevity.
Legacy Characters: Iconic characters like Jin Kazama and Hwoarang made their debut in Tekken 3, becoming fan favorites and continuing to play significant roles in the franchise's subsequent installments.
Soundtrack: The game featured a memorable soundtrack that complemented the intense battles and added to the overall atmosphere of the game.
Cultural Impact: Tekken 3's popularity transcended the gaming community, with characters like Yoshimitsu and King becoming recognizable figures in popular culture.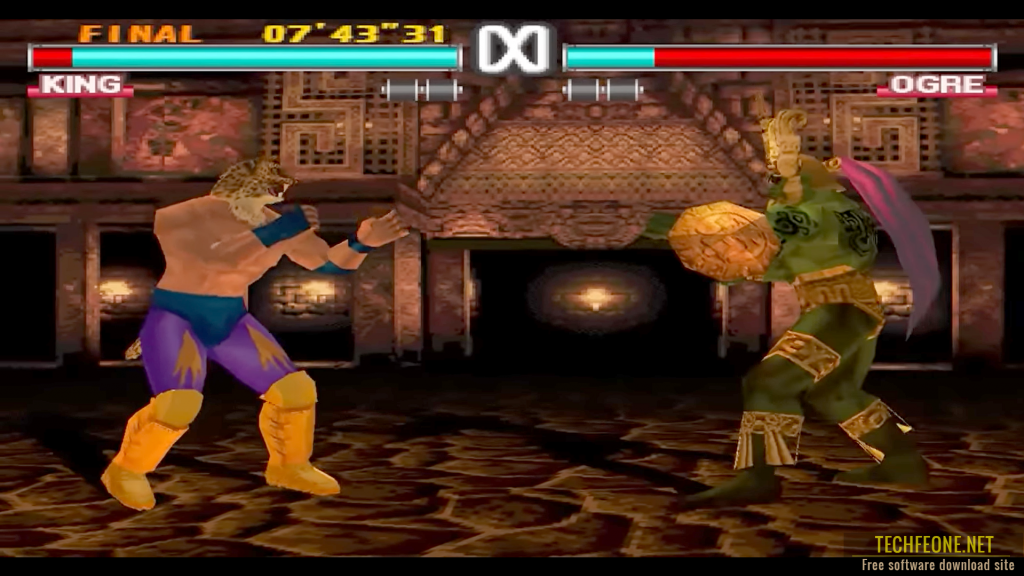 System Requirements for Windows PC
Minimum System Requirements:
Operating System: Windows 95/98/ME/2000/XP
Processor: Pentium 200 MHz or equivalent
RAM: 32 MB
Graphics Card: DirectX-compatible graphics card with 4 MB VRAM
DirectX: Version 7.0 or higher
Sound Card: DirectX-compatible sound card
Storage: 100 MB available space
Recommended System Requirements:
Operating System: Windows 95/98/ME/2000/XP
Processor: Pentium II 300 MHz or equivalent
RAM: 64 MB
Graphics Card: DirectX-compatible graphics card with 8 MB VRAM
DirectX: Version 7.0 or higher
Sound Card: DirectX-compatible sound card
Storage: 100 MB available space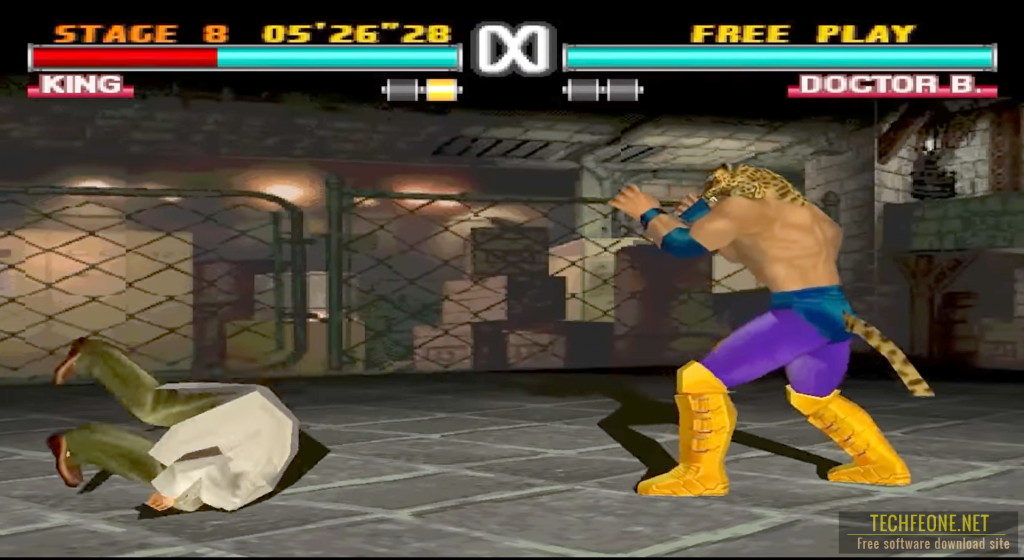 Technical Setup Details
Full Name: Tekken 3
File Name: Tekken.3.pc_game9v.com.zip
File Size: 38 MB
Setup Type: Offline Installer / Full Standalone Setup
Download Tekken 3 for PC with a single link
Download the full settings package in a single link. Click the button below to start downloading Tekken 3 for PC

Unzip Password (if any): game9v.com
How to Install
Note:
Whenever a password is required for a packed file, it is always game9v.com
It is strongly advised to disable any security or antivirus software before extracting or installing the game.
Please refer to the Readme.txt for installation and usage instructions.
How to play Tekken 3 for PC
1. Download a PlayStation Emulator: Choose a reliable PlayStation emulator for your PC. Popular choices include ePSXe, PCSX-Reloaded, and RetroArch. Visit the official website of the emulator you choose and download the latest version.
2. Install the Emulator: Run the emulator installer and follow the on-screen instructions to install it on your PC.
3. Obtain the Tekken 3 Game ROM: You'll need a copy of the Tekken 3 game ROM to play on the emulator. Obtain the ROM file legally from sources that have the necessary rights to distribute the game.
4. Configure the Emulator:
Open the emulator and configure its settings, including graphics, sound, and controls. You may need to map your keyboard or game controller to emulate PlayStation buttons.
Load the Tekken 3 ROM file you obtained. In most emulators, you'll need to go to the "File" menu and select "Run ISO" or a similar option.
5. Customize Settings: Explore the emulator's settings to optimize performance. Adjust graphics settings, resolution, and controller configurations to your preference.
6. Gameplay Controls:
If using a keyboard, configure the keys to match PlayStation buttons (e.g., W-A-S-D for movement, J for left punch, K for right punch, etc.).
If using a game controller, connect it to your PC and configure it within the emulator settings.
7. Start Playing: Launch the game by selecting it from your emulator's game list. You should now be able to enjoy Tekken 3 on your PC.
8. Practice and Enjoy: Spend time in practice mode to get accustomed to the controls, character moves, and combos. Experiment with different characters and strategies to find what suits your playstyle.
9. Save States: Most emulators allow you to save your progress at any point in the game. Take advantage of save states to avoid repeating sections and practice specific moves.
10. Multiplayer (Optional): Some emulators support online or local multiplayer. Check the emulator's documentation to see if this feature is available and how to set it up.