Auto Keyboard Presser does things over and over again and controls which keys on your PC are pressed. The tool makes it easy to imitate different key combinations, like the Enter key, Spacebar key, Backspace key, arrow keys, function keys (F1 to F12), and more.
You can control every tap and every series of taps by adding a delay, setting the number of keys, and doing a lot of other useful things. This is the best option for gamers. The tool works in the background to let the virtual keyboard type without slowing down your system.
Make the task, add keys that are pressed over and over and mouse clicks, save all the combinations, and set a timer for a certain amount of time. Feel free to let one of your fingers rest while playing a game or doing repetitive office work because the tool will imitate the keys by auto-typing key combinations.
How to Download and Install Auto Key Presser 0.0.7
For key simulations, the tool with an exclusive display screen is very simple to use and install. Follow the instructions to download and install the software.

The utility is available for free download by clicking the free download icon above.
Download and run the software.
Open the main screen and choose keys for automation from the dropdown menu.
Tap the "Assign" button to open the edit box and enter shortcut or hotkey combinations.
Navigate the controls to indicate the delay between key press and release time and the number of key simulations, which is set at 10 by default.
Tap the "Hide" button and begin exploring the app to automate important occurrences.
Start keyboard automation by hitting the hotkey combinations you've set. It will automatically halt the keyboard automation.
You may start and stop the keyboard automation with the same hotkey.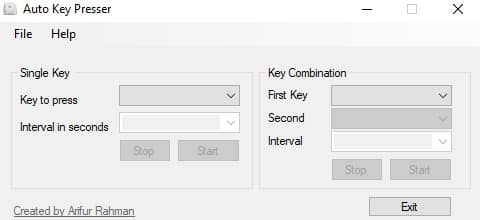 Auto Key Presser Features
Main Features
Installation & Usability
Installation Process for Games
Compatible with Windows
Free Access
Lightweight with Auto-execution
Hotkeys Compatibility
Advantage of Auto Keyboard
Works in background with virtual keyboard shortcuts
Repetitive tasks can be possible with multiple hotkey combinations
Game Installation Process
The Auto Key Presser is the ideal option for gaming, and it is a one-time operation that requires administrative access to your computer. Installed all necessary files once and began delivering Key Strokes to Multiplayer Games, Full-Screen Games, and other applications such as Direct X, etc.
Right-click Auto Key Presser and select "Key Presser for Direct X or Full Screen Apps" to launch the Key Presser Installer. When you start the installer, you will be prompted with UAC Prompt.
Because USB keyboards are not supported, select PS/2 keyboard.
After recognizing the Operating System Name as Windows 8.1, click "Show Me How to Install Additional Component" and the installation procedure will begin.
Open the video tutorial and watch the menu, which includes step-by-step instructions and help for installing the Additional Component of Key Presser for Games.
Complete the installation by following the instructions, and you may now use the tool for games as keystrokes to transmit to the operating system in the same way as a physical keyboard would.
Compatible with Windows
The app is compatible with a wide range of devices, but it works best with all versions of Windows. Windows 10, Windows 8.1, Windows 7, Windows Vista, and Windows XP are the main operating systems that work well with the app. It also needs both a 32-bit and a 64-bit setup.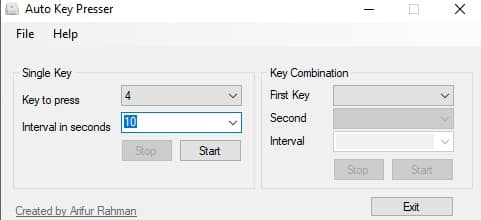 Free Access
The Auto Key Presser has a freeware license that works on Windows 32-bit laptops and PCs. It is offered to all software users as a free trial for a certain amount of time and can be downloaded for free, but there may be some restrictions. It is in the category of atomization and was made by Autosofted Inc.
Lightweight with Auto-execution
With its small size and low resource use, the tool gives the best services. There are several ways to set up automatic presses so that they don't get in the way of the work. It doesn't need to be set over and over again. The auto button is the only one that works, so you don't have to set the hotkeys for every action.
Compatibility of Hotkeys
Managing hotkey compatibility will help you get the most out of the tool. Once you set the key, the tool will automatically follow it. Also, it can store as many hotkey presses as you want. You need to enter the number of key presses and releases, and then you can easily move on to your game or work.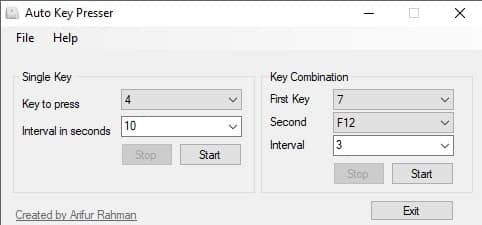 Advantage of Auto Keyboard
Auto-keyboard is easy to figure out how to use, and it lets you work without any interruptions while improving your overall performance. Keys that work with all versions of Windows and Mac OS and support for an unlimited number of keystrokes let you change everything between the number of times you press a key and each keystroke. The app is completely clean and free of any bugs or malware.